Year 9 Boys Triumphant in District Cup Final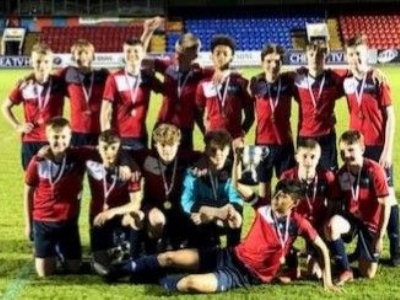 On Monday 13 May at the EBB stadium, Aldershot the Year 9 boys played in the final of the U14 District Cup versus Salesians.
On the back of a comprehensive semi-final victory the boys were in a confident mood but naturally felt some nerves before kick-off. These nerves were evident in the first 10 minutes but they soon started to settle and grew in confidence which was helped by the fantastic support in the stadium from parents, fellow students and staff.
The boys soon realised they could use the size of the pitch and the surface to their advantage and midway through the first half George Grosch made a great run down the right, beat the defender and put in a lovely cross which was met by Aiden Greene who tucked the ball into the back of the net with a tidy finish meaning we went into half time 1-0 up.
During the second half the team really picked up the tempo and goals 2, 3 and 4 all followed in relatively quick succession. Noah Ayivi-Knott has scored some vital goals throughout the season and yet again he showed the knowledge to be in the right place at the right time and the ability to finish calmly and score goals 2 and 3. George Grosch has scored goals all season and got his goal in the final with an excellent finish to see the boys go 4-0 up. There was a glimmer of hope for Salesians after they were awarded a penalty which they scored (4-1), however soon after we were on the attack again and the ball fell to Zak Jones who dribbled forward and then took a strike from 30 yards with a vicious swerving left foot shot which gave the keeper no chance. It was an outstanding goal!
At the end of the game the boys were presented with medals and the trophy, and George Grosch was (deservedly) awarded Man of the Match for his outstanding performance in the final.
Credit must go to all of the boys, not just for the final but for their effort and commitment throughout the season. There is a real bond and they all understand that the team comes first and every single one has played their part throughout; it has been an incredibly enjoyable season which has ultimately seen them crowned as District champions. They play some great football and are a pleasure to work with.
District Cup results for all rounds:
1st Round
Cove 1 Collingwood 3
Quarter Final
Collingwood 2 Yateley 1 AET
Semi-Final
Court Moor 1 Collingwood 5
Final
Salesians 1 Collingwood 5
Squad: Ollie Griffin, Alex Wiseman, Eddie Pearce, George Griggs, Aiden Greene, Toby Horne,Xander Ewing, Jake Coltart, Lucas Grove, Zak Jones, George Grosch, Noah Ayivi-Knott, Sammy Street, Jacob Benskin, Tom Eaton.
Mr Chauhan - Assistant Principal / Year 9 Football Manager