Year 13 Achievements Celebrated at Annual Awards Event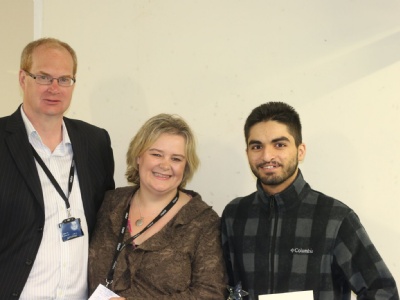 Last week we celebrated the success of our upper sixth students at the annual Year 13 Achievement Awards.
The Ellie Colby Award was presented to Nabeel Zafar who was nominated by the Personal Tutor team for his commitment, resilience and determination to succeed. Nabeel also received two of his three subject awards highlighting the exceptional progress he has made over the two years at Collingwood. The subject awards were presented by the Personal Tutor team with many students receiving recognition for their hard work and consistent effort.
The Special Awards followed with Ramin Gurung and Chris Gurd who were the worthy winners of the Collingwood Believe Succeed Award.
This year there were four Community Awards presented to Alex Foreman and Shaun Vesey for their contribution to the Collingwood Community in assisting the Drama department and the school production of We Will Rock You, Ben Wright for his contribution to the Green Power Racing Team and Ivana Koynarova for her commitment to the Collingwood Debating Team.
The Outstanding Achievement Award was presented to James Keymer. James has exceeded beyond his role as Head Boy. His commitment to the Collingwood community, especially when working with the younger years and in his role as Musical Director for We Will Rock You is commendable. James' 'can do' attitude combined with a humble and selfless persona are qualities that will stand him in good stead for the future.
We would like to wish our Year 13 students all the very best for the summer exams and we look forward to celebrating their achievements in the summer.
Please view this week's newsletter for the full list of awardees. A photo gallery of our awardees will be uploaded to the website in due course.
Mrs Boon - Personal Tutor / Sixth Form Student Services