World Book Day Celebrated by Our Staff and Students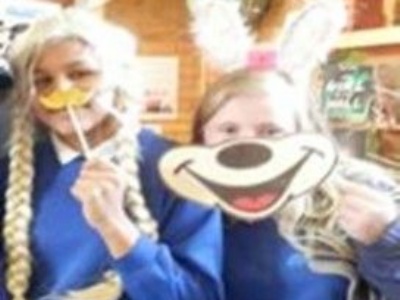 On Thursday 7 March Collingwood celebrated World Book Day with various activities taking place throughout the day.
It began with a 'Drop Everything And Read' session, whereby the whole College dropped what they were doing and read for 20 minutes, including our lovely team of support and admin staff. We received some great feedback from staff and students alike.
Throughout the day, students had access to a book characters photo booth. It proved very popular! The students loved being a character for a few minutes: Mary Poppins met George from 'Of Mice and Men', while Mickey encountered Rapunzel, a king met with the rabbit from Alice in Wonderland and one of the Daleks from Doctor Who…a perfect world of book characters.
At break time and lunch time, some students enjoyed a 'Jackanory' session.
Previous to World Book Day, we gave each Year 7 student a book token that can be redeemed in any participating bookstore until 31 March. On the back of the token there is also an opportunity to enter a competition to win a once in a lifetime family adventure in the USA. If your son/daughter did not receive a token, we have a few spares in the Library - just come and collect one.
Still running in the Library, we have a game of 'Guess the Teacher Behind the Book' and World Book Day Kahoot!
Book Recommendation by Mrs Teissonniere
This week I read 'War horse' by Michael Morpurgo, and I loved it. You will fall in love with Joey, the bravest and cleverest of horses. It is a short book to read but it is packed with emotions and adventure. A definite must read! I would recommend for any boys or girls Year 7 and above.
Have a great week and always remember to check the due date in borrowed Library books. If a book was borrowed on World Book Day, it is due back on Thursday 21 March.
Until next week, carry on reading!
Mrs Teissonniere and Ms Blay - Library Staff