Max and Team are Champions at National Cross Country Event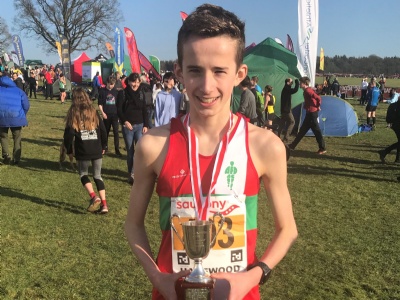 Max Duckworth (10E) and his team, AFD, become Under 15 National Cross Country Champions.
Last weekend (22 and 23 February) Max Duckworth (10E) travelled to Leeds to compete in the National Cross Country Championships in the grounds of Harewood House. Of the 400 or so competitors from all over England, Max came 20th overall. He was running for Aldershot, Farnham and District Athletics Club (AFD) and the team goal was to try and win Gold by their top 4 runners qualifying. AFD has a very strong Under 15s team so it was quite a challenge for Max to even get into the top 4, but amazingly he managed it.
As a result of the AFD team performance they did manage to win the Team event, and were crowned Under 15 National Cross Country Champions for 2019. Another local boy, Charlie Wagstaff from Tomlinscote, was also in the team so it was pretty impressive that 2 of the top team were from Surrey Heath!
It was a great event and Max was particularly inspired as one of the previous winners of an individual trophy from this event was "M. Farah" in 2003!!