The Zone Opens!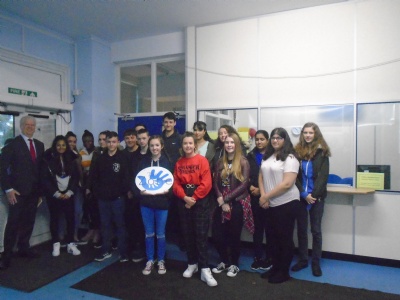 It was poignant that on the mufti day that took place on Friday 15 November in aid of Children in Need and during Anti-Bullying Week, that the College officially opened its well-being area called 'The Zone'.
An area that used to be a corridor and cut through to the Pastoral Hub has been transformed into a welcoming area for younger students to go to if they are feeling like they want to talk to an older student about an issue rather than an adult or a member of staff.
The Years 10 and 11 students pictured have volunteered their services and have been trained to be active listeners and are working on a rota basis to occupy the room at lunchtime and the Year 7 playground on anti-bullying patrols, under the close supervision of Mr Cleary and Miss Hope.
Years 7 and 8 students have had the area and its role publicised to them in assemblies but there is more work to do to raise the profile and the use of the ambassadors. The Zone dovetails nicely with the work that our mentors from Eikon do in their allocated room in Upper G corridor.
The College is massively indebted to the HEART charity and The Camberley 41 Club in providing a grant to clear out and convert both rooms and also purchase the fluorescent green jackets that make the students on patrol so identifiable and that they love wearing so much! Their support is amazing and incredibly well received. We must also acknowledge the hard work of many of our senior prefects from last year in readying parts of the room for the opening. Thank you all!
Chair of Governors, Mr Barker, and Clerk to the Governors, Mrs Rutherford, joined the students in opening The Zone.
Well-being and Anti-Bullying Ambassadors from Years 10 and 11:
Ellie Martin, Jess Owen, Alanna Weeks, Anna Welch, Olivia Jenkins, India Bawa, Rukhsar Ali, Renee Carr, Louie Ward, Charlie Mann, Oliver Culnane, Vamuina Puriza, Neha Sandhu, Alex Riseley, Jake Gaines, Alex Berry, Jaz Marrill-Daly
Mr Cleary - Assistant Principal