Collingwood Footballers on Tour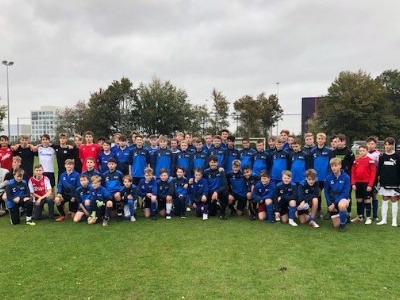 During the October half term 59 students accompanied by six members of staff embarked on the fourth College football tour to Ajax, Holland.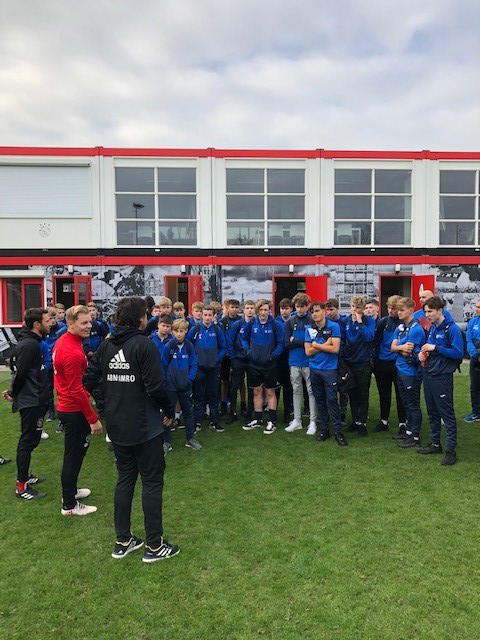 For the first time on a tour we travelled by coach all the way which I was a little worried about at first but when a luxury double decker coach arrived at Kingston on the Saturday morning my fears subsided. The Saturday was mainly spent travelling and credit to all the students they settled well for the journey and before we knew it we had arrived in Amsterdam at our hotel. The first evening was spent settling in, dinner and then bed ready for their first training session in the morning at Ajax.
Up early on day two and after a quick breakfast we were off to training. As usual on these trips we arrived to amazing facilities for the boys to train on and were especially amazed to have an ex-Ajax player Jan Jacobus "Sonny" Silooy as one of our coaches. Sonny played with the great Johan Cruyff in his time at Ajax and also under Louis Van Gaal in the great '90s Ajax side that dominated domestic football. The boys were soon being put through their paces and were enjoying the variety of sessions arranged for them.
After training we were straight off to Rotterdam to watch Feyenoord v FC Zwolle in the Dutch 1st division. The stadium being only 2 years old was amazing and being sat right next to the away support was quite an interesting experience! Feyenoord ran out 3-0 winners in the game and was a great experience for the boys on their first full day of tour. After the game we headed back to the hotel for dinner and the evening's entertainment which was Mr Eaton's famous quiz…as always the boys were very keen to take part and it was a fun evening with a few debatable answers for some questions!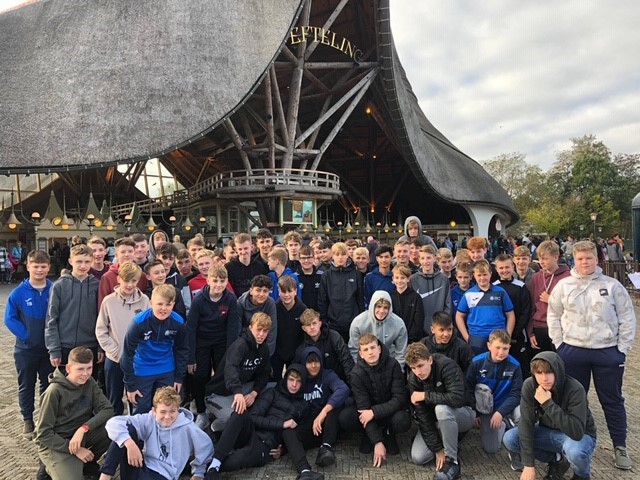 On Day three we visited Efteling Theme park and once again we had a great day enjoying some quite stomach-churning rides. I think for the first time ever on a tour everyone tried the rides which was great. That evening we had our first set of fixtures and unfortunately the opposition was not quite what we needed. Our first team won 23-0 with all 15 of the squad scoring during the game (although Jimmy's goal was ruled offside!). Team 2 had a more competitive game but came out 4-0 winners. Team 3 unfortunately again was a bit of a mismatch and came out 12-0 winners and finally Team 4 who have never scored on tour before managed to win their game 3-2 which was a fantastic result and the smiles on the boys' faces when we got back on the coach said it all.
Day four gave the boys a much needed lie in and after a relaxing morning at the hotel we were off to our final training session at the Ajax training ground. Once again all the students were a credit to the College as they listened and took in every piece of advice given to them. There were a lot of tired legs on show during the session but the standard of play was exceptional and something the Ajax coaches commented on. At the end of the session I was delighted on behalf of the students to receive an Ajax home shirt signed y the whole of the current squad which will be very proudly displayed in Kingston once framed.
Training finished, we did what footballers do best…shop! After an hour and a half at the shopping outlet I couldn't believe what the boys had managed to buy, numerous bags were brought back onto the coach so I'm sure all parents received some lovely gifts! I believe McDonalds was quite a popular stop during the trip.
Day five gave the boys another much needed lie in before we once again headed out for an action packed afternoon. Our first stop was to visit the stadium once again for the boys to do some more shopping. Next stop was Lovers Powerzone, Amsterdam for our afternoon activities of bowling and mini-golf. There had been a lot of hype around the bowling and who was going to come out on top, some even brought their own bowling ball on the trip (Mr Eaton). Unfortunately, the hour went by very quickly so no winner was declared as we didn't finish, but good fun was had by all. The boys then took the chance to play some mini-golf before we headed off for our final fixtures of the tour. After a short journey we arrived at KDO who provided four teams to play against us. First to play were Team 3 and Team 4 who both had very competitive games against strong opposition. Team 3 ended up narrowly losing 3-2 and Team 4 drew 2-2. Team 1 and Team 2 played next against much better opposition giving our students some real tests throughout both games. Team 1 won their game 7-2 and Team 2 drew 1-1. After the game we were provided with burger and chips which was a lovely touch from our hosts.
T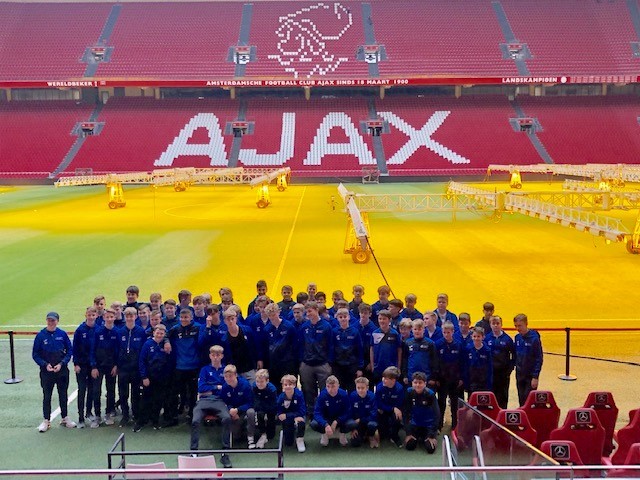 he final day was now upon us and after a very early start, with all the bags packed and onto the bus, we had our final presentation of the tour, where we gave out prizes to those students who had shone throughout the week. We also rewarded all the boys with some goodies as they had been a credit to both the College and their families. Once completed we headed off to the stadium for our guided tour. As always the tour is one of the highlights of the trip for me personally and I think the boys equally enjoyed it. Being able to stand pitch side, sit in the changing rooms and walk out of the tunnel are things every footballer dreams of.
After the tour the dreaded journey home began. It was a seamless trip and before we knew it we were back at Collingwood and the tour was over once again. I have to pay huge credit to all the students who came with us as each and every one of them behaved impeccably and I'm hoping learned a huge amount throughout the week. As always I must pay a huge thanks to my supporting staff Mr Beer, Mr Jarmyn, Mr Chauhan, Mr Eaton and Mr San Emeterio for giving up their week to accompany me and the students on this trip. The week went by so quickly but memories will indeed last forever. During the journey home Year 9s were keen to express their ideas for the 2020 tour which made the journey that little bit easier. Final thanks to all parents for their support and allowing their boys to take part in the trip.
Mr Andrews - Trip Leader