Funds from Fun Day Presented to Christopher's Smile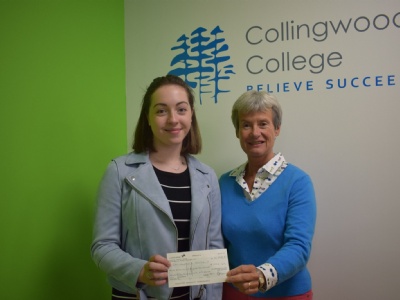 On Monday 24 September two representatives from Christopher's Smile were presented with a cheque for £1852.69, raised from this year's Fun Day.
Many thanks to everybody for all the hard work put into this extremely enjoyable and worthwhile event.
Tuesday 17 July marked the return of Collingwood's fun day, after two years without it. The event is a charity fundraiser with this year's charity being Christopher's Smile, a local charity which improves the lives of child cancer patients. They do so through providing funding for projects that will benefit as many children as possible within the childhood cancer community.
While cancer in children is less common than in adults, there currently are not any nationwide charities that raise funds specifically for childhood cancer research; and despite millions being raised in cancer research each year, only a small percentage does go towards children's cancers. Two representatives from the charity attended the event and after a quick introduction on the main stage, chatted with students and helped sixth formers gather donations.
Students and faculties came together to contribute to the event, the sixth form's senior prefect team at the forefront of planning and preparations. Each form's stall ideas were overseen by members of the team, as well as the overall layout and running order which was finalised by the Head Boy and Girl. Some sixth form students gathered prizes for the raffle, others baked goods for the Sixth Form Centre stall, and some simply helped with the set up and clean up for the day – all of which was thoroughly appreciated by the main student organisers.
The most popular events/stalls by far were throwing pies at teachers' faces, gladiator fighting and the assault course; with the ice cream van also being a firm favourite. Henna and face painting proved to be popular as in previous years, as well as stalls featuring festival glitter – fitting the theme of the day. A tournament in the game Fortnite was also held in the Sixth Form building, where contestants were given a three minute time limit to get as many kills as possible, the victor being whoever had the highest kills by the end. Each form's stall collected funds which were donated to Christopher's Smile.
The main stage hosted an array of events, including leg waxing and karaoke. A local indie band, The Media Spree, led the way with a set covering classic alternative songs as well as originals. Sixth Form boys subjected themselves to the pain of hair removal, with donations being accepted in exchange for ripping off strips, which proved to be a huge success (unfortunately for the boys participating). Karaoke was so popular among both younger and older years that the line had to be cut off to leave enough time to draw the raffle, with students singing songs from musicals, power ballads and hits from the 2000s.
Overall Fun Day was triumphant, those who attended had an enjoyable day and - most importantly helped a good cause through the donations made alongside activities they participated in.
Jessie Long (13OW)