Chinese Students Visit Collingwood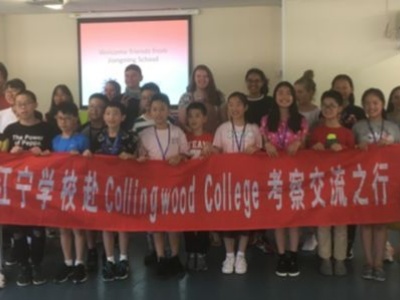 While many students and staff were enjoying the sunshine in the first week of the Summer Holidays we were pleased to welcome a group of Chinese students from our link school in Shanghai, China.
A group of students from Jiangning School in the Putuo District of Shanghai visit the UK for 4 weeks each year to learn English and be immersed in our culture. We are honoured they choose to visit Collingwood for one day each year.
Although we could not give our guests a taste of Collingwood lessons due to the summer break, they were eager to see where our students learnt and were particularly impressed by our facilities.
They were joined by a number of Collingwood students who gave up a day of their holiday to get to know the students from Jiangning School who they will be visiting in October 2018 as part of the College's trip to China. Many of our students will also be part of a homestay experience in Chinese houses, so they enjoyed the opportunity to get to know the students and make some new friends.
The students took part in a number of challenges such as an egg drop and taught each other English and Chinese characters by icing cakes which they could take home at the end of the day.
Collingwood College has developed close links with our Chinese friends at Jiangning School over the last 10 years. We look forward to our forthcoming visit to Jiangning in October 2018. During our previous visits we have experienced Chinese cooking, calligraphy, tea making and origami and even a Psychology lesson, so are excited to see what new skills we can learn on our next visit as well as improving our Mandarin!
We are grateful to all the Collingwood students who gave up a day of their holiday to meet and host the students from Jiangning while they were with us.
Mr McKay and Mrs Jones - China Trip Co-ordinators