Status Racing Starts the Season with Top 5 Placing in Largest Ever Event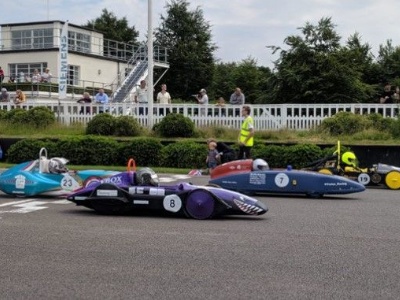 On Sunday 10 June Collingwood's Status Racing team finished in top 5 after competing at Goodwood for the first race of the season.
After an early drive through the leafy lanes of the Sussex Downs, the team arrived at 7:30am at the Goodwood Motor Circuit for the first race of this year's racing season.
The car was rushed to scrutineering as soon as possible for the necessary pre-race checks, which allowed us to get out to the practice racing session on time – an important goal considering that the event had the most competitors ever at 101 individual cars, including the top 10 cars from the previous year.
With the tyre pressures topped up, the bodywork fixed onto the chassis and the drivers briefed, we were ready to begin practice. This gave us the opportunity to test the new gearing ratio that had been prepared for the new racing season, with the aim of getting the car to end the race with little to no battery life to spare; the optimum strategy for the maximum distance goal of the event. However, our session was cut short after around 30 minutes when the car came to a sudden halt halfway around the track. There was much speculation of a possible puncture or electrical failure, but it was only once the car came off the recovery truck that we realised that the newly required battery cut off cable had done its job slightly too well and cut off the batteries on its own accord. Luckily, it was an easy fix and we were able to start Race 1 with much time to spare.
Thanks to a combination of an experienced, well-practiced team, a good new gear ratio, great driving and of course an excellent car, we were able to finish 5th place in both races, with Race 1 ending in a photo finish, which sadly didn't go in our favour. This was however a tremendous result for the team, especially considering that all of the top 10 teams from last year were also racing, meaning we were able to progress from our ranking of 7th worldwide to 5th in the Goodwood race, which puts us in a great position to be able to achieve a similar result at the final later in the year.
Thanks to all team members for a great season and of course to Mr Winter for his ongoing support and dedication to the team.
Ben Wright – 12PD