Collingwood Students Receive Gold DofE Awards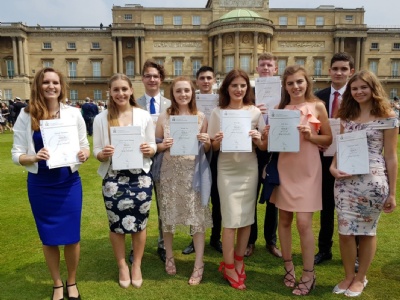 Students presented with Gold DofE awards at Buckingham Palace.
On Thursday 24 May, 10 Collingwood students attended a presentation at Buckingham Palace, London, where they received their Gold Duke of Edinburgh Awards from celebrity presenter, Daniel Clifford (chef), after sharing their experiences with Trustee for The Duke of Edinburgh's Award (DofE), HRH The Earl of Wessex, HRH The Countess of Wessex and HRH Princess Eugenie.
During the Gold Award Presentation, HRH The Countess of Wessex took the opportunity to congratulate our students on their successes and heard about their DofE journeys, which took each young person 12-18 months of hard work and dedication.
Those who achieve a Gold DofE Award will volunteer, learn a skill, get fit, take part in a week long residential and plan and undertake an expedition in wild country. Widely acknowledged as the world's leading achievement award for young people, DofE programmes enable any young person, aged 14-24, to develop key skills for life and work, such as confidence, commitment and team working.
Miss Evans (DofE Co-ordinator) and Mr Tanner (Co-Principal) attended the presentation to see the group receive their Gold Awards. Miss Evans said "I am so unbelievably proud of these 10 students. They have shown great commitment to all sections of the award giving up hours of their time volunteering in the local community. They have participated in regular physical activity and developed a great range of skills including music, language, literature and art. Some completed residential trips abroad whilst others stayed closer to home. They should all be particularly proud of the determination, endurance and resilience they showed on the expeditions in quite difficult weather conditions."
Speaking about her DofE experience Jessica Heritage, one of the Gold Awardees at the presentation, said, "My Gold DofE Residential at the nursing home really helped me to decide what I wanted to do for my future career and helped me to develop the skills and experience necessary."
Awardees: Michael Bastille, Laura Brooks, David Cook, Hannah Davenport, Jessica Heritage, Hannah Lee, Anna Rees, Milly Rees, Alex Smith, Robert Watson
Miss Evans - DofE Co-ordinator/Head of Geography Department