Students Complete DofE Gold Expedition in Challenging Conditions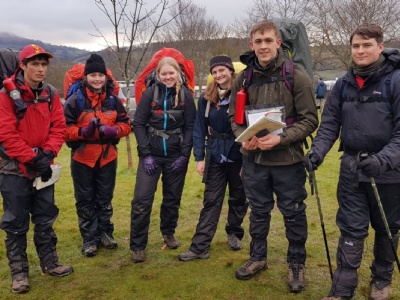 Gold DofE students endure 40 miles in the Brecon Beacons.
Many people ask us why Collingwood supports the Duke of Edinburgh Award scheme and we can honestly say it is because of our amazing students. The 16 Gold Participants: Qualifiers – Alannah Baker, Matthew Beckett, Holly Blackburn, Nia Clayton, Robert Eaver, Ellen Goggin, Joshua Hillman, Luke Knight, Jodie Parkinson, Charlotte To, William Vasey, Harry Whelan, Julian Woodward and Practise – Ben Dillamore, Joshua Gostling and Joshua Turland – all earned their practise/qualifying section of their awards in what was one of the hardest and most challenging expeditions ever undertaken in the Brecon Beacon Mountains.
They endured five days, including travelling to and from Wales in cramped mini buses, and four nights, some of which were in sub-zero temperatures and the wettest conditions for a very long time. Their expedition saw them walking 40 miles (more for some who took a wrong turn!)
Thirteen took on their Qualifying and three took on their Practise expeditions involving camping in sodden fields, climbing up mountains and crossing rivers, navigating fields of new lambs and angry ewes and pushing themselves to their limits to overcome injuries, blisters and hunger for fast food and chocolate, not to mention carrying everything they needed for their days out in the wild on their backs. Some of the girls' bags looked bigger than them!
They all showed impressive steely determination, extreme courage and a strength of character to continue when they really did not want to. As their Wild Country Assessor summed up the event on Sunday, "You all started this journey as young boys and girls from Collingwood and you have ended it as fine young men and women now ready to take on the world".
It was their never-ending sense of humour and comradery that really impressed us; they never gave up on each other and supported all their team mates to be true representatives of themselves, their families and Collingwood.
A very well done to them all from the DofE Team!
Mrs Goggin - DofE Co-ordinator