Year 9 Higher Education Taster Day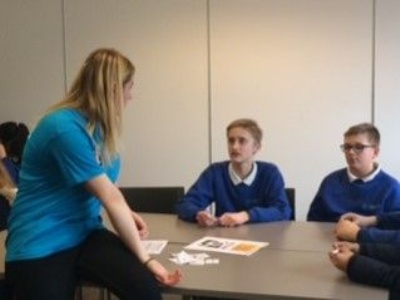 Students spend a day at Royal Holloway learning about university life.
On Wednesday 21 February Fifteen students from Year 9 were able to spend a day at Royal Holloway University. They took part in a series of workshops and lectures about University life, Psychology, Physics and Media Arts. Royal Holloway's student Ambassadors were also present to talk to the students about University life, why they picked Royal Holloway and to take them on a brief tour of the Campus. They even had the chance to design their own TV programme called 'Zack's 24 Hour Basketball Extravaganza' where 15 novice basketballers have 24 hours to improve their skills. If they can't slam dunk, they are voted off with the cry 'you're sunk!'.
The day was run by HEON (Higher Education Outreach Network) partnership who work with several higher organisations such as The Surrey University and Royal Holloway to give secondary school children opportunities to experience higher education. Student feedback was positive with many saying that they now felt inspired to go onto higher education.
Mrs Everson - Assistant Principal