Year 8 Students Get Creative in Design Competition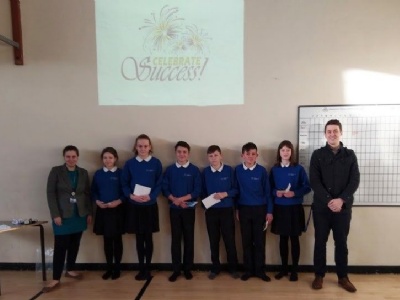 Prizes awarded to Year 8 students for creating problem-solving products in recent competition.
During the second half of the Autumn term all Year 8 students took part in a Design Competition. They were given a choice of projects, creating products that would solve problems in the following four areas; beauty, children's toys, extreme sports and gaming. Students developed their ideas using drawings and modelling.
As this was a real competition many prizes were awarded with 28 students being commended and receiving 5 praise points, 36 students being placed top in their class and receiving 15 praise points and the finalists who can be seen in the Photo with Mr Winter and Mrs Mires. These awards went to: Tyler Hinton, Charlotte Morris and Harry Rundle who were runners up and winning themselves £10 vouchers. Third place went to Anna Brimble winning herself £20 in vouchers, Second Place went to Dylan Wood winning himself £30 in vouchers and the overall winner was Gina Murphy, who won herself £50 in vouchers.
We would like to congratulate all students for their hard work with this project and hopefully we have some real budding designers amongst them.
Mrs Mires and Mr Winter - Technology Department