Collingwood Girls Win Gold at District Trampolining Competition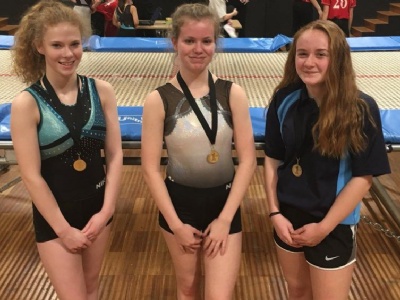 Years 9, 10 and 11 girls win individual Golds at the North West Surrey competition.
On Tuesday 23 January students from Years 7-11 competed in the annual North West Surrey District Trampoline Competition. After many cold early mornings in Camberley Gym students were ready to showcase their talent. All students performed two routines, the same set routine and a voluntary routine which was chosen by the students. There were some lovely routines performed on the day but Grace (Year 9), Emma (Year 10) and Lizzie (Year 11) were victorious over their peers winning individual Gold for their respective year groups. Amazing talent all round. Well done to all the girls for their hard work.
Miss Adie - PE Department