Girls' Football Success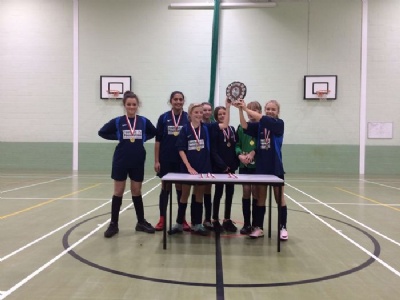 On Friday 24 November the Year 7 Girls' football team became Aldershot and District Five-a-side champions.
The tournament was extremely tough and was split into two sections. The first was the group stage played at Collingwood. The girls started with a tough game vs Wavell School where a last minute goal from Keira Lourdes meant we won the game 1-0. The second game was much easier, beating Alderwood School from Aldershot 3-0 with 2 goals from Sophie Moore and one from Emily Knight. The girls went into the final game knowing that they had to at least draw in order to qualify for the final stages and they beat Ash Manor 3-0 with two goals from Keira Lourdes and one from Emily Knight. The game could have been a lot closer barring a penalty save from Lauren Ellis.
After winning the group stage we travelled to All Hallows School in Farnham to meet the other two group winners and the best runner-up from the groups. On arrival we found that Wavell had already been determined as this and they went through in a closely fought game against Eggars. Heath End were our opposition in the semi-final and despite advance warnings of how strong they were the girls played superbly beating them 5-0 with Keira scoring all five.
So, on to the final and opponents, Wavell, who we were already familiar with. Against the run of play Wavell took the lead and even after dominating the game you had a sense that this was going to be one of those games where the ball just wouldn't go into the net. Until up popped Emily Knight with a fiercely struck shot. No sooner had the kick off been taken and Keira added to the tally and the girls held out for their deserved win.
They played five games in all to achieve their success scoring 14 and conceding 1. Keira Lourdes did score a hugely impressive 9 of those 14 including those 5 in the emphatic semi-final win but standout performer was Chloe Connor who was superb in an out of position defensive role throughout the tournament. Special mention should go to the four girls who couldn't play but who would have been involved on the day. They were on the already arranged Harry Potter trip and despite best efforts to get them there it didn't quite happen. However Chloe Davies showed the team spirit that epitomises the girls and came to support in the latter stages.
Squad: Lauren Ellis, Chloe Connor, Emily Knight, Sophie Moore, Marlie Standing, Keira Lourdes, Chloe Davies, Bonnie Griggs, Lila Dunphy, Emily Carney
Mr Cleary - Assistant Principal