Year 8 Student Receives National Carer Award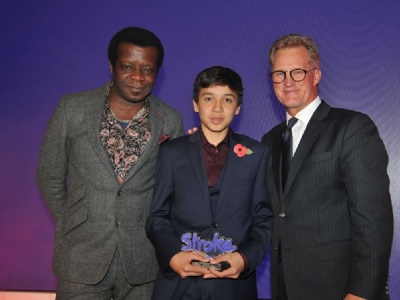 Ed Pearce (8G) honoured by the Stroke Association at special awards ceremony.
After his Dad had a stroke seven years ago Ed Pearce (8G) has taken on the role of his carer; helping him get up in the morning, getting him dressed and making sure he has everything he needs before walking to College for his education.
Ed has been honoured by the Stroke Association at a glittering ceremony at the Dorchester Hotel where he received his award from Stephen K Amos (comedian) and Michael Lynagh (former Australian rugby player).
When Ed, an ardent Chelsea Football Fan, arrived at his seat he found a pair of boots worn and signed by Frank Lampard and loads of Sony PS4 equipment, waiting as a gift for him.
At the end of what was a very moving ceremony, accompanied by a tribute film about Ed and his Dad, Andy's, life together, Ed was approached by the PA to the Head of Toni and Guy who offered Ed executive Club seats at the next Chelsea match at The Bridge.
Ed is achieving well at Collingwood despite all his extra duties at home and this is a very deserving award. Well done Ed!
Mrs Goggin - Year Manager - Year 8