Chinese Students Visit Collingwood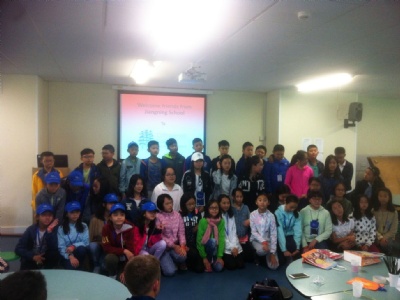 On Friday 28 July a group of Collingwood staff and students were delighted to play host to a group of Chinese students from our link school in Shanghai.
While most students were just starting to enjoy their summer holidays, we were delighted to welcome a group of Chinese students and teachers from our link school in Shanghai on Friday 28 July. Over the last 7 years we have developed a close bond of friendship with Jiangning School in the Putuo District of Shanghai. Collingwood students and staff are due to pay a return visit to China in October next year. We are already getting excited about visiting Jiangning School again in 2018.
During their visit to Collingwood the Chinese students were paired up with our students and were able to take part in a number of fun team-building activities such as an 'egg drop' and 'marshmallow tower'. This was no easy task as many did not possess the English skills to understand some of the more technical terms, but with help of some pictures, the support of our students and some translation by the Chinese teachers they all completed the challenges.
Despite many areas of the College being refurbished over the summer, the Jiangning students also had a tour of many areas of the College and were particularly impressed by our facilities. The students were also impressed by differences in the way Collingwood students and Jiangning students learn. They enjoyed seeing examples of how students at Collingwood take a lead role in their learning. Having experienced lessons in Chinese schools this is a very different approach to what they are used to. In our next Countdown to China meeting we will be looking at some of the differences between Chinese life and education which will help us retain our International Schools award.
During our previous visits we have experienced Chinese cooking, Maths lessons, calligraphy, tea making and origami lessons so are excited to see what new skills we can learn on our next visit!
We are grateful to the following students who helped host the students from Jiangning while they were with us:
Mia Jones, Oliwia Ambroziak, Sulaimaan Bajwa, Phoebe Baker, Eliot Duff, Shené Fergusson, Callum Gilchrist, Genendra Gurung, Megan Jones and Lana Willing.
I am also grateful to Mrs Jones and Mrs Clelland without whom the visit would not have been such a success.
Many friendships were formed, despite the language barrier. We look forward to continuing our bond of friendship with the staff and students at Jiangning School in October 2018 and over future visits to China.
Mr McKay - Head of Vocational Education/China Trip Co-ordinator