Surrey Heath Schools' Orchestral Extravaganza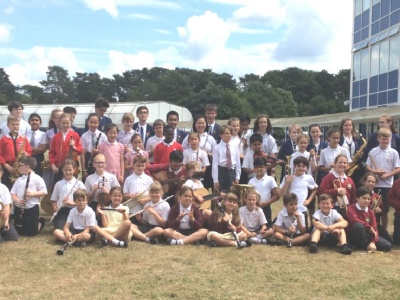 Collingwood hosted its second Orchestra Day on Monday 10 July, involving musicians from Primary and Secondary Schools from across the area.
Over 60 students from Year 3 to Year 10 took part in the event. Performers came from Kings International College; Lakeside Primary School, Ravenscote Community Junior School, South Camberley Primary and Nursery School, Hammond Junior School and Collingwood College.
The event was directed by music teachers from Surrey Arts and began with a warm up activity in the morning to get everyone playing together. Throughout the morning, players rehearsed three pieces, two of which were pieces arranged specifically for this occasion. After lunch, the performers re-assembled for a final rehearsal before the audience arrived for the performance. The students gave a stunning performance of all three pieces, which reflected all their hard work during the earlier rehearsals.
One of the students who took part from Collingwood College stated: "The Orchestra Day was a fantastic opportunity for new musicians to experience playing in an orchestra. It brought all the schools together and allowed every musician to develop their skills and become more confident in playing as part of an ensemble. With valuable help from the music teachers, I feel that every musician, experienced or not, learnt a great deal and enjoyed themselves throughout the day.
Miss Pugh – Head of Music Department