Fun and New Experiences for all on Enterprise Days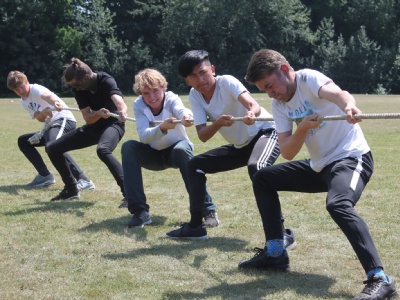 On Thursday 6 and Friday 7 July Collingwood students participated in various activities/trips for our Enterprise Days.
There were many offsite visits – Year 9 to the Science Museum and the Big Bang Event, Year 10 to the London Dungeons and the London Eye, Year 12 to Windsor and Year 7 to Portsmouth Historic Dockyard and Cuckmere Haven. In addition, students who do Art or Photography at GCSE took the opportunity to visit Farnham Sculpture Park with the Art Department.
In College, a new event for Enterprise Days took place – debating skills with the Communications Faculty for Year 9. Mr Baird has developed a fine Debating Club at Collingwood, and many of its accomplished students played a major role in the organisation and the delivery of the day.
Starting with warm-up activities in groups…"If I were Principal of Collingwood… If I were Prime Minister…" , the students were led through a gentle process from the theory of debating right through to all experiencing the real thing. This culminated in selecting a "Best 8" Debaters to conclude the day by demonstrating their skills in debating a motion about animal testing. Huge admiration for the group of accomplished debaters from Years 9 to 12 who helped Mr Baird throughout the day, and who awarded prizes to the day's star debaters Sophie Harris and Aimee Mackenzie. Year Manager, Mr Gregory, was astounded how quickly and seamlessly his Year Group progressed from knowing little on this subject to, at the end, being able to perform a structured debate.
In the 6th form, "Futures Day" took place in a variety of different sessions - Year 12s had valuable time to prepare for their future, be it a new job, an apprenticeship or Uni. Alex Dingley, along with many others, was looking up possible courses, in the UCAS session. Shagana Anton and others were given help with writing Personal Statements, really appreciating the time given to them to start on an exacting and very important process. Sean Rengasamy told me how useful it was to learn about what prospective Universities were looking for in our students. All were looking forward to their time in Windsor the following day!
For Year 8 students, the Maths Department set out a series of rooms, each with a different country theme. In each of these areas different mathematical exercises were completed in alternative ways. Thus on Ballard Field (Portugal) Mr Pimentel's groups were measuring the area of a football pitch in football shirts, there were board games in Greece, and Spirals and Circles (Fibonacci squares) in Italy. Ben said he thought it would be boring doing Maths all day but found it all pretty creative. In Cuba there was dancing, and in France a very topical Tour De..., measuring distances that the cyclists travelled.
Other Year 8s were having a lot of fun doing the serious stuff with First Aid, all hoping to gain a full 3 year certificate, which would last them until they enter 6th form. There was a lot to take in, but they thoroughly appreciated the chance to gain this award, and particularly enjoyed the bandaging sessions and resuscitation exercise with "Annie". Shazoor said it was really informative, and he and his friends were well engaged in this highly practical course.
Some students who had not elected to join in the offsite trips were engaged in practical activities - Year 9 Science students created a rocket, Year 10 students who did not go to London were on a competitive exercise in Music Technology to produce a one minute theme for a big sporting event.
Finally, and it was quite a hot day for this activity, members of the British Army had been invited in to encourage Year 10 students to engage in various sports, and also to give the students an insight into Army life. There was a talk on Armed Services as a career, and the chance to try out Army rations ("surprisingly good", said Ollie). Good full scale sporting activities rounded off the day, where, as the military guys suggested would happen, the girls won some Tug of War battles against boys' teams (is it the technique?).
This was a particularly successful first day I thought, as I toured round the activities. Students seemed extremely appreciative of the hard work from teaching staff that had contributed to the success of the day.
Mr Bunter - Enterprise Days Co-ordinator