Leftward Lurch at the Collingwood College Mock General Election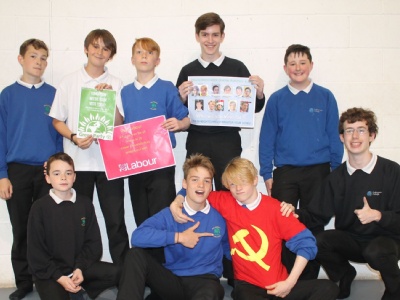 Over 1100 students vote in Collingwood's Mock Election - winners take 49% of the vote!
Our outgoing Prime Minister called a General Election at a time most inconvenient for School Mock Elections, as at this time of year many schools have most large areas full up with exam desks. Nevertheless, Collingwood continued its record of engaging students in this so important democratic process, without the publicity that candidates could engender through speaking at School Assemblies.
As many as 8 candidates put their names forward, representing the 5 mainstream parties, as well as three more "Independent" candidates, representing the "Red" party, the Libertarian Party UK, and the United Communist Party (UCP). As well as posters, candidates produced extremely professional "election broadcasts" which were relayed to all students in form time.
Clearly the Videos, alongside strong campaigning, made their mark on the student electorate. The stronger campaigns generally garnered the most votes.
Head and shoulders above the other parties were, indeed, the UCP, who, with their catch phrases and straplines ("No Police, No Problem","Equality for all", "Build a wall between England and Scotland"), not least their most amusing Video, took 49% of the vote for a landslide victory. Second were Greens, with Labour third.
Matt Bolton and Toby Nowell, UCP leaders said "We had a great campaign, but we put it all down to Lewis Mears who filmed and created our Video!"
Mr Bunter, Languages teacher and Mock Election Organiser, commented "Collingwood has once again engaged all students in the general election process, providing Citizenship lessons for real. I hope our students will go home to their parents and discuss how they voted and why. As for the winners, I am once again truly amazed how students quickly learn what it is they need to do to create an impression, and get others to vote for them – a real message for the politicians out there trying to win the over 18 vote!"
Mr Bunter - Mock General Election Organiser