Mr Thomas smashes into the Robot Wars Final!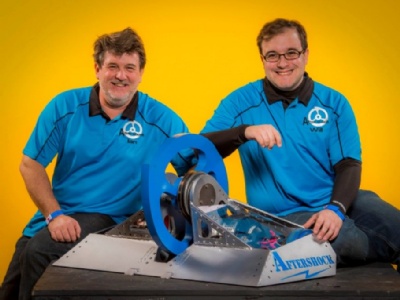 Collingwood's Technology Dept Technician (right in photo above) reaches Robot Wars grand final with Aftershock after winning the opening heat of new series.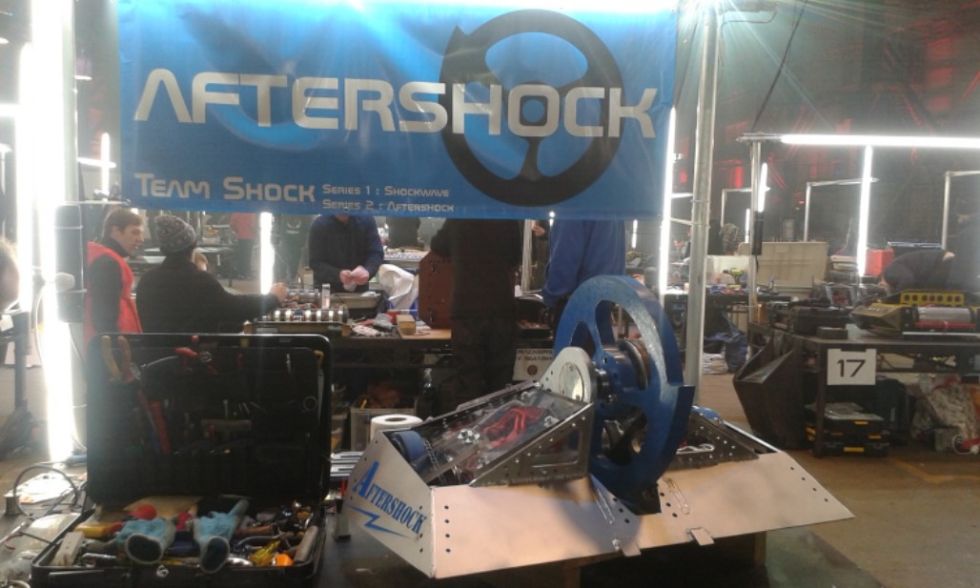 On Sunday 5 March Mr Thomas (our Technology Dept Technician) competed in the opening show of the brand new series of Robot Wars on BBC2.
After reaching the finals in the previous series with his machine Shockwave, his team fell foul of the deadly Carbide. Determined not to be beaten so easily next time he decided to build a new machine - Aftershock!
Armed with a 24 kilogram, solid steel flywheel spinning at over 150mph Aftershock is a much more deadly machine and the 6mm thick military grade steel is tough enough to withstand just about any attack in the arena.
In the first round of the competition, Aftershock destroyed opponent Crank-E in less than 30 seconds to progress to the head-to-head stage. Its next fight was against Rapid - a very powerful flipper machine that cost almost £25,000. It was another win by knockout and the damage caused was so severe that Rapid was forced to retire from the competition. The next fight was by far one of the most brutal fights in Robot Wars history! Aftershock completely annihilated Sabretooth in a display of incredible power. By the end of the fight there were parts hanging out of Sabretooth as it was paraded around the arena by Sir Killalot.
The last head-to-head fight saw us fighting the awesome axe machine Terrorhurtz. Once again Aftershock was able to deliver a knockout blow to reach the heat final with a full 9 points - only the second machine to achieve that feat.
In the heat final we faced a rebuilt Sabretooth and we proceeded to win the fight in convincing style by disabling our opponent for the fifth fight in a row!
Having won the opening heat Aftershock moves on to the Grand Final at the end of the series and is already being tipped to win the whole competition! How far will we get? Be sure to watch Robot Wars every Sunday at 7pm on BBC2 to find out!
Mr Thomas - Technology Department