LA LA LAND 2017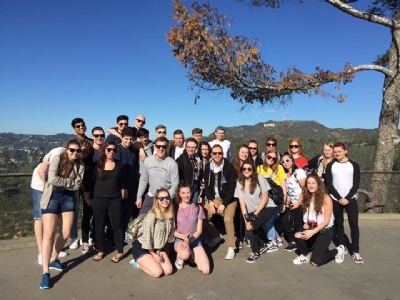 During half-term Sixth Form Media students travelled to Los Angeles for an amazing 6-day trip.
Saturday 11 February – Thursday 16 February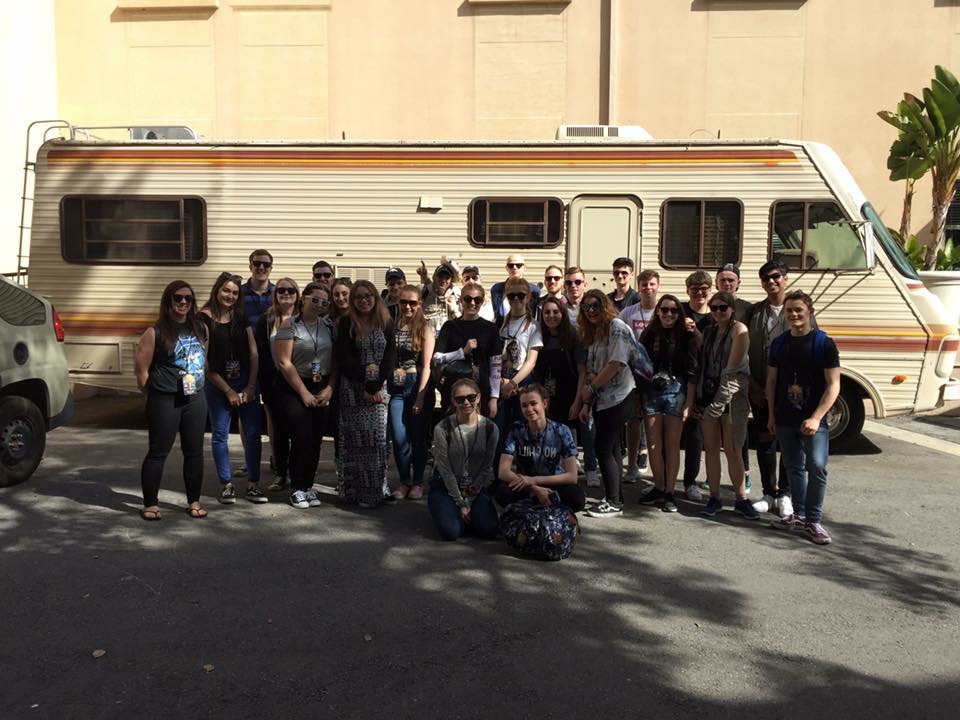 During the February half-term a group of 6th Form Media Studies students travelled to California for an amazing six-day trip visiting the sights of LA. Day one started off with a 6am journey to Heathrow airport followed by an 11 hour plane journey. After settling into our hotel, The Sportsman's Lodge, we went for dinner at Hard Rock Café Hollywood.
The tour of Los Angeles, which took place on the first full day, started off with a trip to the iconic Hollywood sign and the Griffith Observatory. After seeing the surreal and stunning sights we hopped back on the coach, driven by the wonderful Fernando, and went to Grauman's Chinese Theatre and Walk of Fame. We were given the opportunity to explore all the famous Hollywood names from Elizabeth Taylor to Clint Eastwood, James Stewart to Sandra Bullock, as well as the cast of Star Wars, Harry Potter and The Hunger Games.
Fernando continued to drive us around LA taking us to Olvera Street, or 'Little Mexico', notorious streets and famous film locations. That evening we spent two hours at Universal City Walk before dining at Bubba Gump Shrimp where we enjoyed a tasty meal and were quizzed on our Forrest Gump knowledge.
Every morning the race for breakfast was decided by Mr Ruffles' quiz questions and ended with an award and punishment ceremony from the previous day.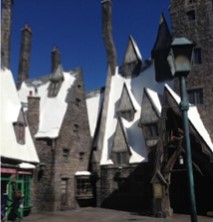 On the third day we went to Sony and Warner Bros studios. At Sony we were given the opportunity to explore props from movies such as Spiderman and TV shows such as Breaking Bad. After Sony, we all went for lunch, the majority of us going to In-N-Out Burger, before heading off to the Warner Bros Film Studio. At Warner Bros many Friends fans were excited to sit on the couch, whilst fans of The Big Bang Theory had the opportunity to see the set it is filmed in. Prior to this was an extraordinary tour of the sets built by Warner Bros, an exhibition of props from the Harry Potter movies and a collection of Batmobiles from a range of Batman movies. That same night we went out for a 'zesty' game of bowling.
The Universal Studios tour was by far the most interactive experience. The tour of the studios involved a drive down Wisteria Lane from Desperate Housewives, a flood, an earthquake and a plane crash. Once again, there was a Harry Potter feature, except this time it involved an extremely grand Hogwarts accompanied by Hogsmeade. Having spent the day in the glorious LA sunshine on the Universal rides we went back to the hotel to pack and swim in the pool.
On the final day of our trip Fernando drove us down to Santa Monica where we enjoyed a shopping trip before eating cheesecake from The Cheesecake Factory on Venice Beach. We all then braved another ten hour flight home to the UK.
The trip was unforgettable, largely thanks to great people, food and experiences. Film gurus had the opportunity to see where their favourite movies were shot, and people with no knowledge of film had the chance to soak up the sun and make memories. None of this would have been possible without Miss Angell, Mr Woods and Mr Ruffles so thank you all so much for a zesty, once in a lifetime trip!