Debaters Secure Place in South East Regional Round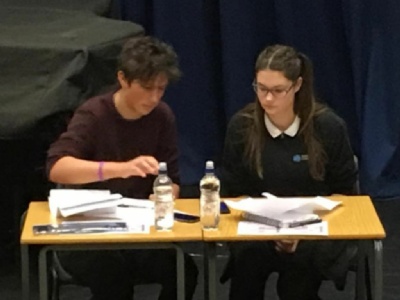 Collingwood's debating team succeeded in passing through the regional heat for the English Speaking Union's Mace competition on Wednesday 30 November.
The team faced fierce competition from a wide range of both private and state schools, including Heathfield School in Ascot and Wellington College in Crowthorne, yet managed to beat all teams except Wellington, and secured a place in the South East England regional round.
Debating the motion "This house supports capping professional sportspersons wages", my team mate Ivana Koynarova (11K) and I both delivered eloquent and impassioned speeches which resulted in us becoming the only state school out of the winning teams.
We were also accompanied by Alexandra Tiantova (8F) and Dylan Wright (8I) who both provided excellent contributions to the floor debate and helped keep morale high with their unwavering enthusiasm.
The Collingwood debating team will compete in the regional competition some time in February, against many skilled local teams, including Wellington, Eton and Licensed Victuallers.
Julian Woodward - 12OW