31 March 2021
With the Lateral Flow Tests in College completed, no confirmed Coronavirus cases among staff or students and the significant reduction of Coronavirus infection rates and deaths at local and national level we are all very hopeful of a much brighter future. Even the weather has changed for the better!
Once again, I would like to thank you for all your ongoing support and hope that you and your family have a safe and enjoyable Easter break.
Staffing
At the end of this term we say goodbye to Mr Max Anderson, from the Social Sciences Department, who is leaving us to join his partner in Mexico. We are grateful for all his hard work for the College and wish him all the very best for the future. We welcome Mr John Charman to the College as his replacement.
Face Coverings
We have been told that the Prime Minister will make an announcement on Easter Monday regarding the next stages of the easing of restrictions and as part of this we expect him to make an announcement on face coverings in schools and whether they will still be required to be worn in classrooms next term.
The timing of this announcement is not ideal for schools so our position is that all measures, including the wearing of face coverings, will remain in place unchanged at the start of next term and our position will not change until we have received any updated guidance in full, considered its implications and have communicated any changes to you and our students.
Awarding of Grades
The latest exam guidance was received last week which can be read here and below is our proposed internal timeline for the awarding of grades process. If you missed our communication about the grading process it can be viewed on Edulink within Noticeboard, Letters Home, March. You will note we have added a second progress report where the 'grade range' in each subject will be updated after the internal assessment window has closed.
Date

Action

Monday 8 March - Friday 19 March

Students return to face to face teaching and teachers will continue with the curriculum.
Formative Assessment for Years 9,10 and 11.

Friday 26 March

No new content will be taught after the 26 March. In some subjects this may have happened earlier.

Wednesday 31 March

Departments deadline to share approach with students.

Friday 23 April

Progress Report 1 home at the end of the week.

Monday 26 April - Friday 21 May

Internal Assessment Window using exam board materials.

Monday 24 May - Friday 28 May

Portfolio of evidence shared with students and signed off.

Friday 28 May

End of Assessment process.

Thursday 10 June

Progress Report 2 home.

Friday 18 June

Teacher Assessed Grades submitted to the exam board.
The Year 11 internal assessment calendar for May has been confirmed below and teachers will provide students with further details of these 'mini' assessments.
26
April

27
April

28
April

29
April

30
April

3 May

4
May

5
May

6
May

7
May

MN

Option C

Science

Option B

Option E

Option D

Science

Maths

English

Science

OP

Option C

Science

Option B

Option E

Option D

Science

Maths

English

Science
10
May

11
May

12
May

13
May

14
May

17
May

18
May

19
May

20
May

21
May

MN

Science

Maths

Option B

Science

Option D

Option C

Science

English

Option E

OP

Science

Maths

Option B

Science

Option D

Option C

Science

English

Option E
I also provide below the student-friendly Ofqual summary guidance on the grading process this summer.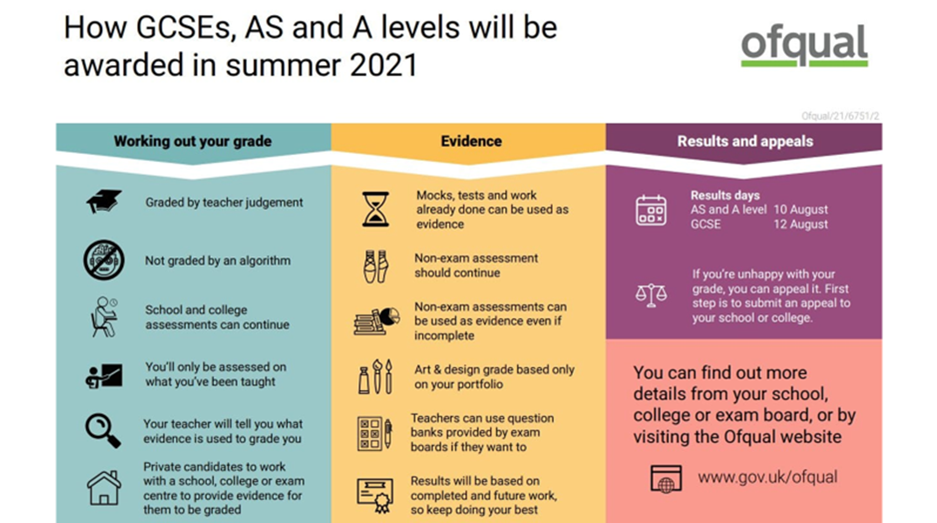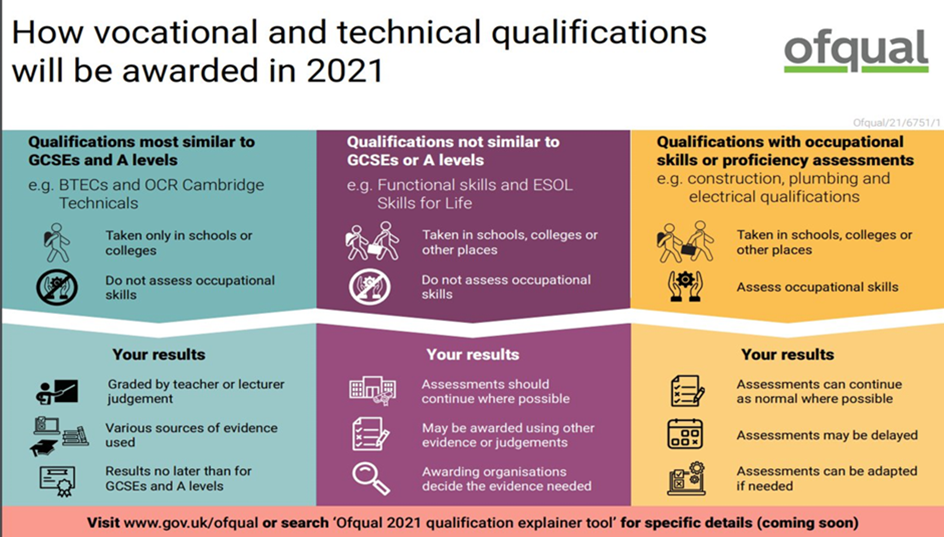 Power-Up Courses Over the Easter Holidays
It is very encouraging to see that over 70 students in main College and 90 students in the Sixth Form have booked to come in to participate in over 25 subject courses during the Easter holiday. I am obviously very grateful to staff for giving up their holiday time to deliver these sessions and trust that these will be productive and enjoyable sessions for everyone involved.
Letter from the Rt Hon Gavin Williamson CBE MP, Secretary of State for Education
We have been asked to share with students, and their parents, a letter from the Secretary of State for Education:
'I wanted to let you all know how grateful I am for the way you have responded to the huge challenges you have all faced throughout the coronavirus pandemic.
Whether this is your first year at school or your final year of college, I know the disruption you have all faced to your education since the pandemic began has been incredibly challenging and has meant completely changing the way you learn - either learning remotely at home or continuing at school or college with fewer of your friends around you and lots of safety measures in place.
Whether you were at home or at school, the disruption last term and throughout last year asked a lot of you and your families. I am filled with admiration for the incredible way you all responded and the resilience you have shown. Not being in school or college with your teachers and friends was a huge sacrifice. Everything you did, with the help of your families and your schools and colleges, and everything you missed out on – time in school, taking exams, seeing friends, playing sport and much more - made such a huge difference to helping us stop the spread of the virus. I want to say a huge thank you to all of you.
Getting all young people back into school and college safely has been my priority throughout the pandemic. I know how vital it is not just for your education but also to spend time with your friends and to feel happy and secure. All our lives have changed a lot in the past year but the challenges that young people have faced have been some of the hardest. I will continue doing everything in my power to make sure that all of you are supported to boost any areas of work you've had less time at school to study, get the qualifications you deserve and have the opportunities you need to succeed.
Continuing to follow all the safety measures your schools and colleges have worked hard to put in place, as well as taking a test twice a week, is so important and helps us to stop the virus spreading. The testing that thousands of you have been taking part in at school and college is a vital part of this. I am so grateful to you and all the staff who have supported you to do this. I know your schools and colleges have worked incredibly hard to prepare you to test yourself at home.
As most of you at secondary school and college move to testing yourself regularly at home, it's vital that you continue to test and report online twice a week through the Easter holidays and after you return to school. Home testing twice a week for you and everyone you live with makes a huge difference and means you are playing a really important role in helping us move back to a more normal way of life. Your school or college will continue to support you and make sure you have tests. You and your family can also find out more about home testing here.
I was delighted to see the enthusiasm with which so many of you returned to school at the beginning of March and I am sure you have had a wonderful few week catching up with your friends and teachers. It was fantastic to meet pupils delighted to return to school on my visits to schools like Arden Academy and Bedford Free School and to see so many more of your reunions on social media. I hope that the new term will be just as enjoyable and successful for all of you.'
Mr Tanner - Principal