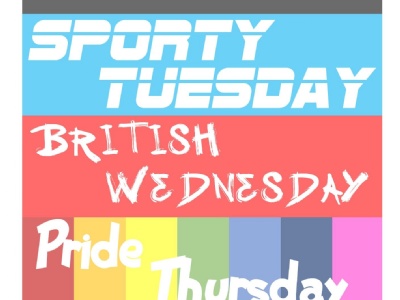 Sixth Form Fresher's 2017
Collingwood's sixth form senior prefect team pulled off a fantastic week of themed events and charity fundraising to welcome the new Year 12 students to the Sixth Form.
The week started off with 'Black and White Monday', with a successful game of Bingo at lunch run by the events team, with Amber Riddle being the lucky winner of a £5 Amazon voucher.
Tuesday was 'Sports Tuesday'; students came in their full gym kits and trainers while the common room was decorated with Olympic flags and a boxing ring set up ready for the boxing matches that took place at lunch as student's vs student's with inflatable boxing gloves.
Wednesday followed the theme 'Best of British' with everyone dressed in red, white and blue and the common room was decorated to match. At lunchtime, the common room was packed with different teams sat around the tables, ready for the pub quiz run by the Media Team. Rounds of General Knowledge, Films, Young Celebrities and Extreme Close-Up's revealed a tie break question of: How many secret Herbs and Spices are there in a KFC? (The answer is 11) to decide the winning team - congratulations to the Year 12 team who were the winners of a range of sweets and donuts!
The next day everyone came in brightly coloured clothes as they showed support for 'Pride Thursday'. Year 13's ran a bake sale of chocolate brownies, cookies, cupcakes and more and raised £50.00.
The week ended with 'Festival Friday' where we raised £71.51 for Cancer Research by selling Raffle Tickets. Sixth Form students (and staff) won a range of prizes donated by local businesses; Vue cinema tickets, Creams voucher, gift sets and a Waitrose hamper. Miss Gulliford was the lucky recipient of a bottle of Bollinger champagne and Miss Angell was the winner of some Thornton's chocolates. The day and week ended with students performing live in the common room, playing guitar and singing. A fun way to end an exciting week!
By Jess Georgiadis – Year 13 student