Collingwood Rugby News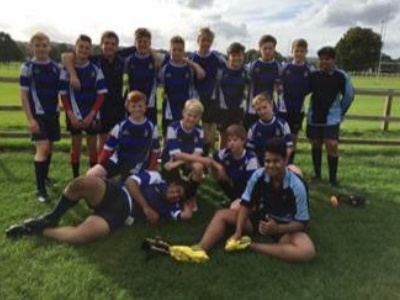 Good start to the rugby season 2016 by our Years 9 and 11 teams.
Our Year 9 team has recently played two tournaments. The first was a Surrey Cup tournament. Collingwood comprehensively won all four matches against Weydon, Salesian (Chertsey) and Howard of Effingham. Of those schools two made it to the semi-finals of the Surrey Cup last year. On Monday 17 October Collingwood played in the Gordon's 12 a side tournament in very wet conditions. Collingwood won against Winston Churchill, drew with Fullbrook and lost to Gordon's and Heathside. Well done for a good start to the Autumn term.
Team: Imrule Munshi 9I, Harry Johnson 9E, Josh Lovell-Smith 9I, Dan Glendinning 9E, Luke Wiseman 9C, Tom Wyatt 9K, Chris Lear 9E, Cameron Voss 9C, Danny Watson 9K, Sam Attard 9A, Finn Ward 9E, Toby Nowell 9C, George Inoke 9K, Matt Hill 9A, Judd Dugdale 9B, Euan Jardine 9D, Jay Dhaliwal 9F, Dan Parry 9E.
The Year 11 team also played a Surrey Cup game on Monday against a school known for their rugby, Glyn (an Epsom school). Unfortunately due to illness we could not field a full 15 players but had 10; so we played 10 v 12. Collingwood scored two excellent tries in the first half with conversions kicked by Cameron Reid. After half time Glyn picked up their game and scored in the middle of the half to draw the game. Collingwood continued to attack. However, during the last play of the game too many penalties were given away and they bundled over near the try line. We managed to turn the ball over and the slippery ball popped out and Glyn dotted it down for the try. Collingwood 14 – 21 Glyn.
Team: Cameron Reid 11J, Euan Murray 11I, Richard Lovell-Smith 11E, Rohit Thapa 11A, Josh Martin-Jones 11B, Nick Atkinson 11K, James Smith 11H, Harry Sawyer 11G, Subik Rai 11A, Devraj Juneja 11A, Zac Andrews 11J.
Girls' rugby is well underway and we have our young leaders helping out giving one to one coaching. These Year 10s and 11s play rugby themselves. The under 13 girls receive extra help to bring them up to speed for their fixtures starting on 20 October as they have never played contact rugby before. First impressions over the first few weeks is they are going to be amazing and I'm excited to see how well they do.
Please note that students who play rugby for College have until Friday 11 November to buy a shirt. If it doesn't appear on ParentPay for you to purchase a shirt please email Miss Robinson via student email. These shirts are for students that play extra-curricular rugby for College against other schools.
Miss Robinson - PE Department