Convincing Win for Year 10 Boys Football Team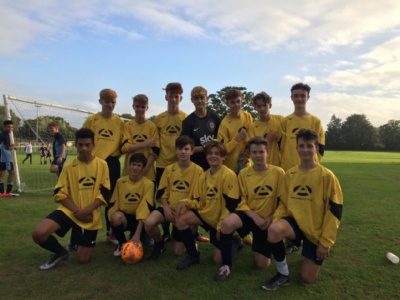 Year 10 boys secure a 5-0 win against Heath End School.
The Year 10 Boys Football team travelled to Farnham Heath End School, securing a convincing 5-0 win ahead of their 1st Round County Cup fixture against St John the Baptist School, next week.
Strength at the back from Dan Smith and Andrew Gunn, coupled with explosive running from Miles Davis and Ben Griffin, made for a more convincing performance. Bertalan Berenyi offered pace on the left while Olly McCartney caused the opposition problems in a 4-3-3 formation.
Team: Josh Mills, Joe Foster, Cameron Tyler, Dan Smith, Andrew Gunn, Sam Wheeler, Max Mercadal, Miles Davis, Ben Griffin, Bertalan Berenyi, Bertie Richardson-Coleman, Olly McCartney
Goals: Bertalan Berenyi, Miles Davis, Ben Griffin and Olly McCartney
Man of the Match: Bertalan Berenyi
Mr Beer - Head of PE Department