Years 10 and 11 Basketball Boys Continue to Impress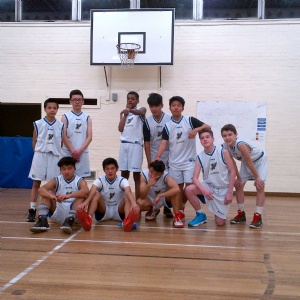 Despite losing 15 : 51 the Year 10 and 11 Boys' Basketball squad continue to impress.
On Thursday 14 January the boys hosted St John the Baptist School in a frantic, high tempo fixture. The boys know they were out played by tall and physical Year 11s but were pleased to hear that the PE teacher from SJB commented on how 'fast and skilfully' our Collingwood squad play. For the dominance that SJB had in the key our Collingwood boys matched it with speed of passing, fast breaks and sensational dribbling.
As training continues on Monday lunchtimes and after school the boys look forward to an anticipated game against Heathside School and a friendly against Woking High.
Team: Nikko New, Prajwal Rai, Andre Mistry, Pranil Gurung, Subin Gurung, Jenson Brown, Elliot Hopper, Subik Rai, Silas Rai and Bhupendra Gurung.
Captain: Bhupendra Gurung
Man of the Match: Andre Mistry
Once again, a pleasure working with such dedicated boys who show they can win with grace and lose with dignity.
Mr Beer - Head of PE Department