Year 10 Boys Dominate the 7-a-side Tournament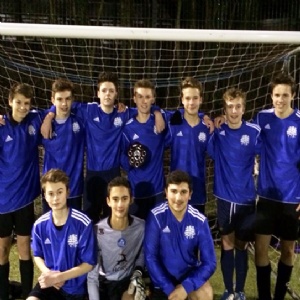 Collingwood score the 'Golden Goal' in the final after a 0-0 full-time score.
On Thursday 30 January a selection of the Year 10 Boys' football squad travelled to Gordon's School to represent Collingwood College in the Woking District 7-a-side tournament.
The tournament consisted of a group stage where we played against Fullbrook, Woking, SJB, Gordon's and Rydens. The team were undefeated in their group, winning 4 games and drawing 1. The other group consisted of Tomlinscote, Winston Churchill, BDB and Heathside.
We progressed into the semi-final where we played the runner-up of the other group, Heathside, and won with ease by grabbing an early goal and dominating possession.
Collingwood College progressed to the final to play SJB whom we had beaten in the group stage. The final was very tight with both teams coming close to scoring but at full-time the score was 0-0 and so it went to extra time ('golden goal'). The referee blew the whistle to start the half when player of the tournament Matt Alexander wrestled his way through, winning the ball from the centre going past two players drilling a low shot into the corner. A brilliant performance by the team as Frasier Crouch (goalkeeper) only had 1 shot on target against him in 7 games and kept a clean sheet. Well done to Matt and Luke for great defending.
Highlights: Josh Barrett in the first game drilled a shot into the top corner and Keaton Kavanagh showing us all some flicks and tricks.
Squad: Frasier Crouch, Andy Butters, Luke Williams, Jake Scott, Matt Alexander, Keaton Kavanagh, Josh Barrett, Chris Goddard, Matt Varns, Lewy Farrer
Mr Jarmyn - PE Department