Year 9 Girls Basketball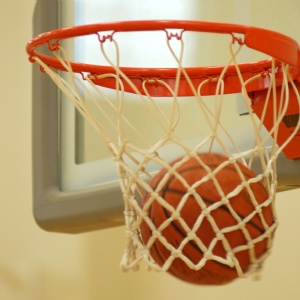 Year 9 Girls Basketball Team make a pleasing start to the year.
The Year 9 girls started their 2013 campaign in November with two games in the space of three days in the Sports Hall.
The first match was against St John the Baptist and for many of the team it was their first ever basketball match because they have only started playing this year. With only five players and no substitutions the girls surprised everybody with a hard fought win. The final score was 19-17.
The second match of the week was against a very experienced team from Woking High who had been playing together for years. The girls showed great enthusiasm and they have really improved after just two matches. Unfortunately they lost 40-14 but they never gave up!
Well done to everybody involved. I can't wait for our next match which is just before Christmas.
The girls involved were Jaz Alamo, Megan Raby, Alice Smith, Holly Smith, Emily Nicholson, Charlotte Mills, Jessica McDonald, Cayetana Anderson, Katie Wheeler and Lauren Humphrey.
Mrs Daniel - PE Department