TVIBE Faculty Celebration 2014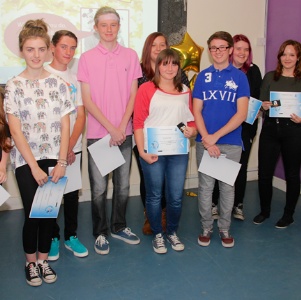 Last week the TVIBE Faculty celebrated students' achievements with an awards evening and an exhibition of the fabulous work that has been produced this year. More photos will be available soon within 'Recognition of Achievement' here on the website.
Walt Disney once said that "Whatever you do, do it well. Do it so well that when people see you do it they will want to come back and see you do it again".
Tuesday 1 July was a chance for the staff and parents to see some of the amazing work our students have produced within the TVIBE (Technology, Vocational and Business Education, and ICT) Faculty. It was so good that we wanted to display it and celebrate the talent shown by 57 of the TVIBE students, and who knows….maybe, just maybe, we will have the chance to see it again when our talented students embark on their chosen careers.
The evening commenced with drinks and nibbles followed by an award ceremony where Heads of Department and teaching staff were able to give a short speech about each student, while Mr Tanner awarded the certificates and Amazon vouchers. This was followed by an exhibition of work from our talented and successful students. The staff, students and parents mingled to view the exhibits, taste the ice cream and share compliments about the high standard of work on display.
Parents, staff and students thoroughly enjoyed the evening with one parent telling us it was "…just perfect!".
Mrs Everson - Head of TVIBE Faculty