Year 9 student skates to 12th place in British rankings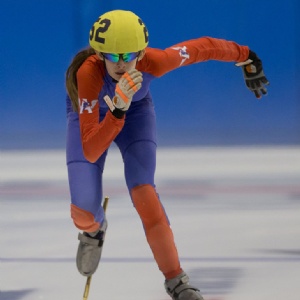 Tanith speed skates to beat her personal best!
During the weekend of 22 November to 24 November Tanith Turner competed in the Short Track Speed Skating Star Class Cup in Oberstdorf, Germany.
Tanith performed above expectation, setting new personal bests at both 500 m and 1000 m and finishing 19th out of 44 against the best 13-15 year olds (Junior C category) in Western Europe (some of whom are over a year older than she is - due to age categories being two-year blocks).
Her new personal best for 500 m is 49.991 seconds. This is the first time she has skated under 50 seconds for the distance which enables her to be considered for the UK development squad. The time also moves her up to 12th place in the current British Senior rankings.