CAPA Awards Presented at Special Evening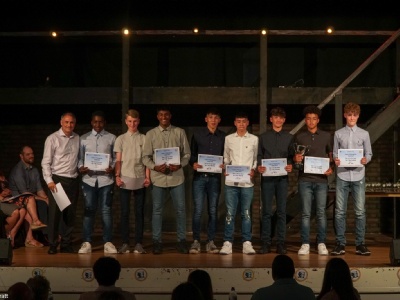 On Tuesday 9 July the Creative and Performing Arts (CAPA) Faculty held its annual Presentation Evening to celebrate student success and achievement.
Family and friends joined Faculty staff in Kingston Theatre to acknowledge and celebrate the commitment and talent of the award winners. Special thanks go to all parents and carers who support and encourage their children to achieve their dreams and aspirations. Thanks must also go to Mrs Fuller for the organisation and planning of the event.
Congratulations to all the award winners, from the magnificent Boys' Basketball Team, double award winners Cameron San Emeterio and Emma Freeman and finally James Keymer who received the Outstanding Performance Award for his tremendous, selfless contribution to the Creative and Performing Arts at Collingwood.
All awardees are fully committed to their studies and produce work to the highest standard, often beyond what is expected. They act as inspirational role models to their peers, often making a significant contribution to the extra-curricular life of the College – the College community is extremely proud of you. More photos can be found within a photo gallery here on our website.
Mr Chauhan - Assistant Principal