Taiwanese Students Visit Collingwood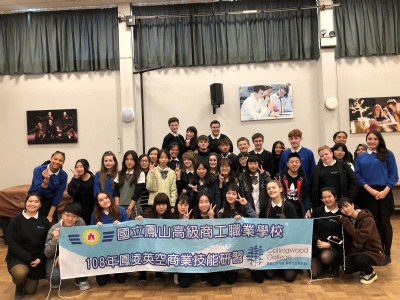 The Taiwanese group experience the UK's education system.
20 Taiwanese students visited Collingwood between Monday 21 January and Wednesday 30 January in order to get a feel for what education is like here in the UK, with a focus on Business, as they are from a Commercial and Industrial vocational school in Taiwan.
Students were each buddied up with a Collingwood student who is currently studying Business as a GCSE option. This opportunity gave them a taster as to what life at Collingwood is like and how education differs between the UK and Taiwan.
During their time here, they also visited London on a number of occasions, once to see The Phantom of the Opera. They also visited Bath and Stonehenge. Both the Taiwanese and Collingwood students gained a lot through this 8-day visit and I am sure they are all going to keep in contact with each other in the near future, as they all got to know each other so well and shared experiences.
I would like to say a huge thank you to all the Collingwood students who volunteered to be buddies, who did an excellent job and made my responsibility for this visit far easier than I could have ever imagined.
The students involved were: Lewis Mears, Tomas Lyons, Erin Patman, Jacob Hanley, Tamara Wild, Chloe Holton, Lucas Rusu, Michaela Kemp, Aimee Mackenzie, Emily Kawwanna, Sanjidah Hussain, KC Nalumisa, Cameron Voss, Matthew Barnett, George Nokes, Luca Filip, Ella Cash, Jamie Sturt, Matthew Russell, Alexandra Tiantova and the wonderful translator Wendy Li!
Miss Dillon - VIBE Department