Dutch Girls Experience Life at Collingwood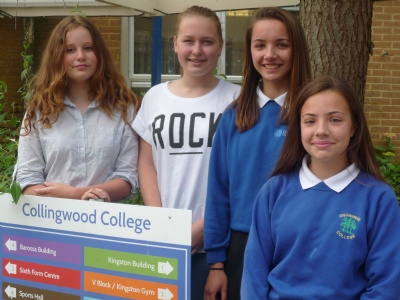 Last week Collingwood was pleased to play host to two dutch girls for 3 days.
Happily living up to the requirements of Collingwood's International School Award, the College played host to Dante Renes and Nanette de Ruig, who arranged for themselves a short experience at an English school. Their school is called Chrystelyk Lyceum Veenendaal, half an hour from Utrecht. Using various contacts they had, we were approached and able to accommodate them!
Paired with Elizabeth and Megan in 8C, they attended lessons and did everything that their Collingwood "buddies" did, for 3 days.
Nanette spoke of how the Maths topic she was introduced to (algebraic fractions) was not known to her, and was pleased to learn something new. She said that there was no tutor time in her school, and of course no uniform! Indeed our students had wanted to know what her school uniform was like… as well as lots of requests to speak some Dutch!
Dante found the English lessons really interesting, but also the Technology – as in her school this was a subject she did not have on the curriculum. The girls enjoyed designing and making a chocolate box. The idea of "setting" was different for her too – in her school she does all her subjects with the same class.
Elizabeth and Megan enjoyed hosting too. They were both amazed at how good the girls' English was, and how easily they were able to socialise at school. Many of their friends in
Year 8 wanted to learn some Dutch from Dante and Nanette, and asked about life in Holland and their school life.
These were two very charming guests for Collingwood, who have done themselves and their country proud. I am led to believe that the various trans-Channel Social Media will be very busy soon!
Mr Bunter - International Schools Co-ordinator