Collingwood Celebrates Asian Culture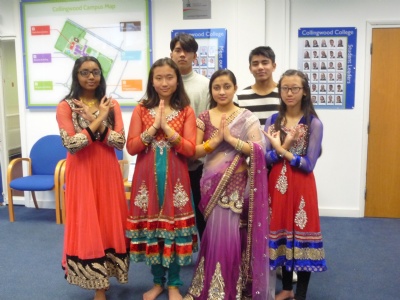 Last week Collingwood once again celebrated Asian culture during 'Asian Week'.
Collingwood is proud to recognise the moderate number of students at the College who are full or part Asian descent, whether it be from Nepal, India, Pakistan, Middle East or Far East, as the students from these communities offer much to the school.
Classroom staff from all the Faculties presented curriculum items to various year groups. The MFL Department allowed time for Asian students, when present, to introduce their home language – for example, Nepalese, Arabic and Thai were all taught. The English Department offered literature from Asian countries, the Geography staff considered Nepal tourism, History discussed India as 'The Jewel in the Crown' of the British Empire, and likewise, the Maths, Science and Vocational/Technology Departments all joined in.
In Food Technology we welcomed a Year 7 parent who demonstrated Indian cookery to Year 9s, and there were lots of Indian snacks available for students to try at lunchtime. A real high point for students were the Assemblies where Years 9 and 11 students led by Neha Sherpunja and Alisha Magar produced high class dancing styles from Nepal and India in wonderful costumes. There was also a chance for Year 7 students to be shown how an Indian lady puts on her saree.
Co-ordinator of Asian Week, MFL teacher, Mr Bunter, commented "There was a tremendous spirit amongst students this week as they embraced recognising and celebrating the cultures of other communities. There has been a lot of fun for both students and staff alike, within a serious message of inclusivity and outreach. The Asian Week has been full of many activities of which Collingwood is proud to be a part of."
Mr Bunter - Asian Week Co-ordinator/MFL Department