Music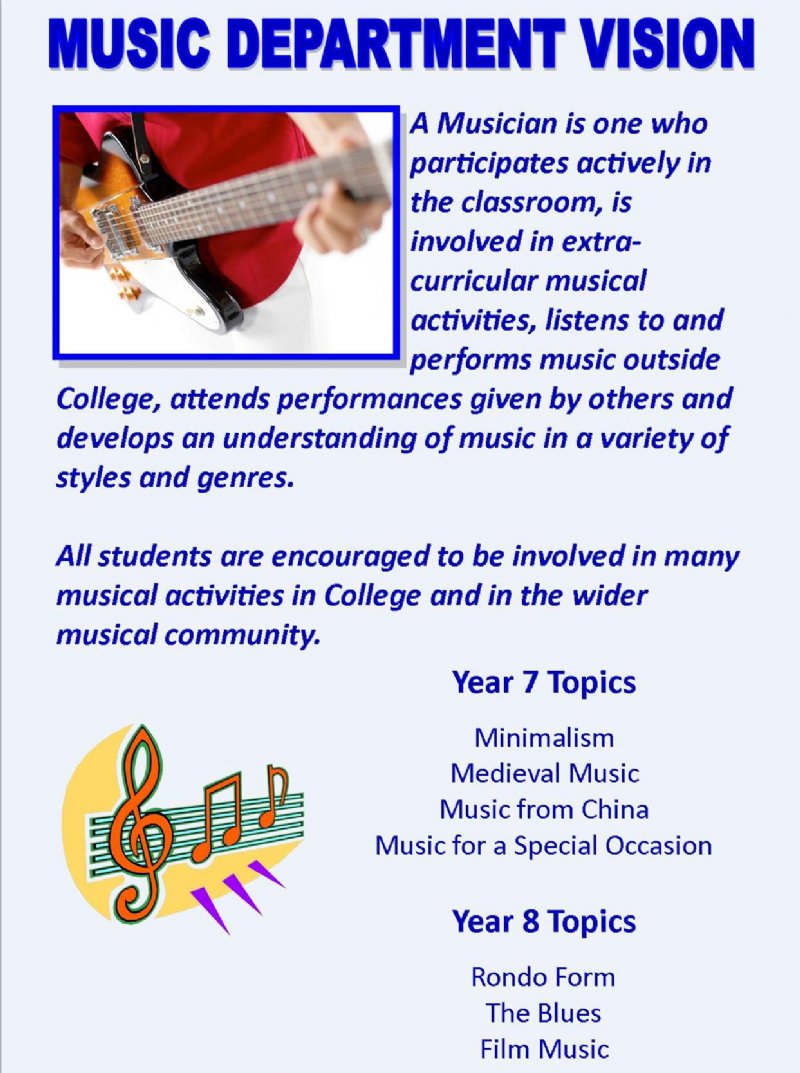 Head of Department: Miss K Pugh

Introduction

The students explore music in a wide range of styles and cultures through the areas of Composing, Performing, Listening and Evaluating. They learn to appreciate how music reflects different cultures and how music has developed over time.

Through practical music-making students learn to be co-operative, organised and tolerant of the ideas of others and are given the opportunity to develop their own interests in the subject.

Facilities and Resources

The Music Suite consists of three teaching rooms, M1, M2 and M3, a recording studio and two practice rooms. All teaching rooms have 15 computer workstations which are equipped with the latest music technology software for composing at Key Stages 3, 4 and 5. M1 and M2 also have a piano, a range of acoustic and electric guitars, a drum kit and 15 keyboards to enable students to learn music through a practical experience in the subject.

All students are encouraged to bring their own instruments into the classroom and music will be provided for them to learn the music from various styles on their own instrument when possible.

Enrichment Activities

Students are encouraged to take part in the many extra-curricular activities the department has to offer. Most activities are accessible to students in all years giving them the opportunity to work with others across the age-range.

Students may leave their instruments in the cupboard in M2 for the day but should collect them promptly at the end of the College day.
DAY

ACTIVITY

OPEN TO

Monday

Orchestra M2

All who play an orchestral instrument + guitarists and keyboard players

Tuesday

Choir M2

All students

Wednesday

Exam Group Rehearsals

M1 & M2

Groups to book in advance:

Autumn Term – BTEC students

Spring Term - Arts Award students

Summer Term – BTEC & Arts Award students

Thursday

Guitar M2

Flute Ensemble M1

All students – this is very popular so students are encouraged to bring their own guitars

Flautists Grade 2 and above

Friday

Keyboard Club M2

Music Technology M1

All students

All students
| | |
| --- | --- |
| | |
| Autumn Concert | Carol Service |
Performances During the Year
Autumn Concert
Autumn Chamber Concert
Year 7 Concert
Carol Service
BTEC and Arts Award Concert
Summer Concert.